PARTY MUSIC FOR EVERY SPECIAL OCCASION
If there's one word that stands for what The Phonix Band does, it's HAPPINESS! Your happiness matters, that's why we strive to provide Vancouver's best wedding band experience. We are happy people happily helping you create the perfect wedding of your dream.
We combines old school dance grooves with a modern flair, flashy choreography with a captivating stage presence, playing all your favourite songs from the 50s, all the way to your everyday Top 40's hits. Strap in your seatbelt, because we're taking a ride on this musical time machine!
Along with an all-star party band line up, soulful lead singers and a shiny horn section, you will experience an infectious performance that will take you back in time and make you dance all night!
Being professional entertainers in the EVENT industry since 2009, we what it takes to make the most memorable night of your night UNFORGETTABLE! Let us know what suits your mood and we'll make it happen!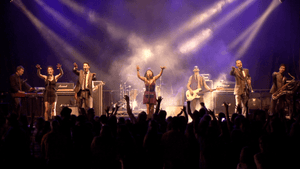 What does The Phonix include?
An incredible performance by The Phonix. Check out our song list.
Professional sound system for band, background music and speeches
A dedicated sound technician to ensure even the speeches sound good!
Lighting for stage and dance floor (optional: upgrade for a state of the art light show)
Dance and Dinner Mixes for dinner and in between sets
Unlimited FREE consultations
Site visit to discuss all your entertainment needs (within greater Vancouver)
Communication with your venue representative on your behalf
Free tickets to our upcoming shows
Event Planning resources
7-day prior follow ups
Preparation of custom set lists including your personal repertoire selections from our existing song list
Design, logistics and sourcing of custom sound and lighting package
What happens on the big day?

We arrive to setup roughly 3 hours before guest arrival (or earlier if need be)

We will be finisehd setup 30-60 minutes before guests arrive

We can arrange to play pre-recorded music on our sound system as guests arrive. We can provide playlists if you need
Yes, you can use our sound system for speeches and dinner music, no extra charge. Our technician will happily man the dials to adjust background music volume as your speeches happen
We kindly request that you provide a dinner for us and our technician roughly 60-90 minutes before our first set
We perform your first dance then continue performing based on your desired schedule

Typically, our packages include 3 x 50 minute sets of music with 15-20 minute breaks in between, all within a 4-hour window. We are flexible with our set and break times, and can adjust to your schedule.

Yes, we can provide pre-recorded dance music to play through the sound system while we take breaks
Yes, we can take on-site music requests - if you'd like to hear a song we don't play, we'll find a recording and play it through the system
We will happily continue playing music through our sound system for up to 30 minutes after our performance, for no extra charge. Keep the mood alive as your guests leave
Once everyone is gone, we'll pack up and load out our equipment in about 30-60 minutes.
Let's drink champagne and dance on tables!
We'd love to hear from YOU!