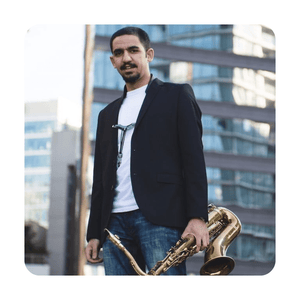 Ardeshir Pourkeramati
Get your party started TODAY!
Be the first to book the hottest Party Band, Musicians, DJ and Photobooth for your event!
Check availability
Jazz Saxophone

Saxophonist, composer, and educator, Ardeshir Pourkeramati draws inspiration from a wide variety of music. Based in Vancouver, Canada, his versatility has driven him to play with various musical groups of different genres. He has worked with bands such as the Vancouver Legacy Jazz Orchestra, Jaelem Bhate Jazz Orchestra, Coco Jafro, Los Duendes, Orquesta Tabasko, and Lambsbreath. With a masters degree in music from University of Organ, he was member of Steve Owen's "Oregon Jazz Ensemble", where he got to work with the Grammy award winning guest artist Sean Jones.