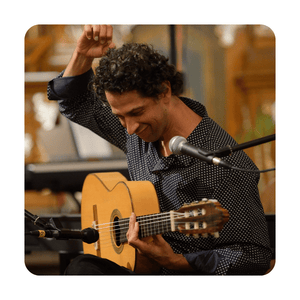 Itamar Erez - Award Winning Jazz Guitarist
Get your party started TODAY!
Be the first to book the hottest Party Band, Musicians, DJ and Photobooth for your event!
Check availability
Guitar + Piano
Itamar's music holds a depth and sensitivity that touches listeners deeply.
It blends the delicateness of Middle Eastern music, the freedom found in jazz and the passion of flamenco, creating a unique sound all his own.

Recipient of the 2014 ACUM Prize for Special Achievement in Jazz and the prestigious 2014 Landau Prize, Itamar Erez is an internationally renowned composer and guitarist who has shared the stage with such musicians as Omar Faruk Tekbilek, Tomatito, Avishai Cohen, Jean-Louis Matinier, Zohar Fresco, and others.