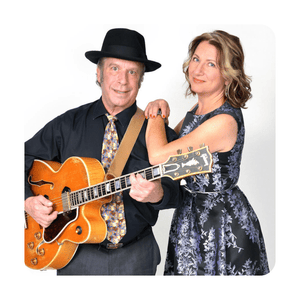 LJ Mounteney's Blue Velvet Duo
Get your party started TODAY!
Be the first to book the hottest Party Band, Musicians, DJ and Photobooth for your event!
Check availability
Guitar + Vocals

The Blue Velvet Duo is a musical act that invokes the sultry vibe of 40's and 50's style Jazz. Think Peggy Lee and Dave Barbour, Ella Fitzgerald and Joe Pass or Julie London and Howard Roberts.
Ron Thompson is a veteran of the Vancouver music scene. He studied at the Guitar Institute of Technology in L.A. in its first year and went on to be a Cruise Director for Princess Cruises, the leader of the Romaniacs (Gypsy Jazz) and for many years, was the guitarist in local legend Dal Richards band. A master of accompanying vocalists, Ron is adept at finger style chord melody guitar playing and performs with exquisite tone and incredibly technicality.
LJ Mounteney studied Jazz at Vancouver Community College and since then has been the lead vocalist in many groups in the Blues and Jazz genres including Zappostrophe, Undercover and guest appearances with Gabriel Mark Hasselbach, Van Django (Cool Yule), The Wahs, and many more. She possesses a pure tone and agile voice and is a dynamite performer.  
The Blue Velvet Duo's repertoire stems from the duo's impressive versatility and love of all genres and you might find yourself listening to everything from Billie Holiday to Stevie Wonder to Patsy Cline and more.