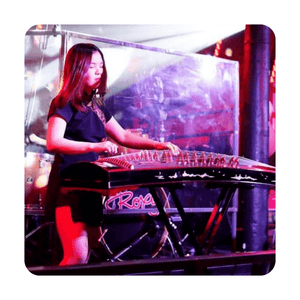 Michelle Kwan
Get your party started TODAY!
Be the first to book the hottest Party Band, Musicians, DJ and Photobooth for your event!
Check availability
Guzheng
This visionary GuZheng virtuoso fuses the sound of traditional Chinese instruments with the melodies of the West. Prepare to embark on a sonic journey like no other as she defies convention, fusing the rich heritage of a traditional Chinese instrument with the electrifying energy of Rock and Roll.
Michelle's groundbreaking experiments transcend boundaries by infusing her GuZheng melodies with a dazzling array of guitar effects - from raw distortion to ethereal delay, soulful wah to immersive chorus, and beyond. Witness a mesmerizing convergence of cultures as she breathes new life into this time-honored ethnic instrument.
At the heart of Michelle's captivating performances lies the guzheng, an ancient treasure adorned with 21 horizontal strings. Much like a pianist, Michelle takes her seat, ready to weave her spellbinding tunes. While traditionally reserved for Chinese classics, Michelle defies expectations by masterfully reimagining iconic hits such as "Sweet Child O' Mine" by Guns N' Roses.