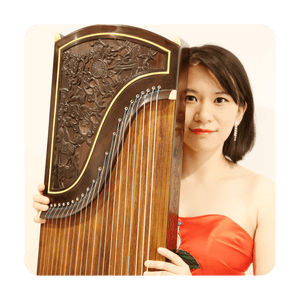 Sarah Tan - GuZheng Player
Get your party started TODAY!
Be the first to book the hottest Party Band, Musicians, DJ and Photobooth for your event!
Check availability
Zheng Artist (Chinese Instrument)

Sarah Yusha Tan is an independent Zheng artist. She began learning Zheng at the early age and start her professional training at the age of 12 at Xinghai Conservatory of Music secondary school . In 2004, Tan was admitted to Shanghai Conservatory of Music Zheng professional, studied with the tutelage of the famous guzheng musician, educator Professor Wang Wei. In 2007, Tan won silver medal in the Asian Star competition. The same year, she won the Excellence Award in the Shanghai Xiangyin competition. After obtaining the Bachelor of Music degree in Zheng performance in 2008, Tan moved to Canada, she was being a member of several music ensemble such as BC Chinese Orchestra, Vancouver Chinese ensemble,Vancouver Inter-Cultural Orchestra, and she was invited to perform with Ukrainian Choir,the Vancouver Philharmonic Choir, the Korean Filis Choir . In past few years, she has preformed many concerts and musical activities, such as Vancouver Jazz Festival, folk music festival, Sound of dragon music festival , she was also invited to Phoenix for the Chinese Miss Canada regional competition as a performer guest In 2016 , In the same year, Tan cooperated with Japanese Koto musician Kozue Matsumoto and South Korea Gayagum musician Grace Lee for the concert "Sound of Asia - Zheng dialogue". The concert got a huge positive response.