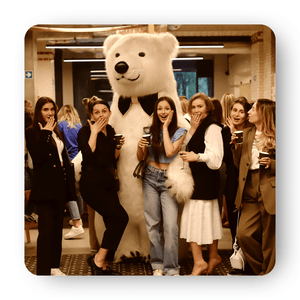 Dancing Party Bear
Get your party started TODAY!
Be the first to book the hottest Party Band, Musicians, DJ and Photobooth for your event!
Check availability
Party Mascot

Introducing our latest party service, the POLAR BEAR mascot act, embodying the spirit of 'True North'. Towering at 7 feet tall, this furry marvel boasts exceptional dancing skills bound to enthrall your audience. Meticulously crafted, its ultra-huggable form brings a whimsical touch to any event, inviting guests of all ages to bask in the moment's magic. With its commanding presence, this lovable mascot guarantees unforgettable memories at your Vancouver corporate gathering.
Let this endearing polar bear be the star that launches your party with an explosion of cuteness and joy! Beyond its charm, this gentle giant acts as a superb icebreaker, fostering connections among your guests. Its photogenic allure guarantees a plethora of Instagram-worthy moments, amplifying your event and brand across social media. Elevate your Vancouver corporate event with our Polar Bear Mascot, a delightful fusion of charisma, entertainment, and shareable memories that will have everyone reminiscing long after the event's end. Seize the opportunity to infuse your occasion with the enchantment of this adorable polar bear mascot!